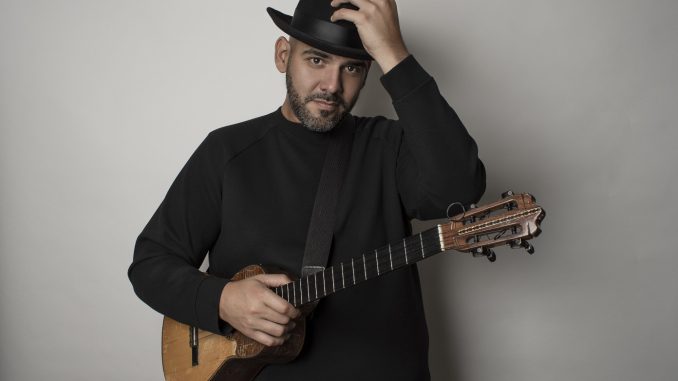 On July 28, the prodigiously talented of Jorge Glem,the most international and recognized Venezuelan cuatro player,
will be performing in the iconic  Hollywood Bowl for  the world premiere of "Odisea: Concerto for Venezuelan Cuatro and Orchestra", composed by Gonzalo Grau, accompanied by the Los Angeles Philharmonic, under the direction of maestro Gustavo Dudamel​
The Venezuelan Cuatro will be the protagonist of a memorable night next Thursday, July 28th, when Jorge Glem takes to the majestic stage of the Hollywood Bowl to premiere"Odisea: Concerto for Venezuelan Cuatro and Orchestra", with the prestigious Los Angeles Philharmonic.

This unique work was commissioned to be written by composer and pianist Gonzalo Grau, also Venezuelan, through the Mexican composer Gabriela Ortiz and its director, Gustavo Dudamel, who will take the baton this evening, in which its second part includes the cantata  Carmina Burana by Carl Orff.

"It really was a very big surprise for me when Gonzalo Grau called me about a year ago to tell me that the Los Angeles Philharmonic had commissioned a concert for Venezuelan Cuatro and Orchestra where he was going to be the composer and I would be the soloist", comments made by Jorge Glem, who since 2016 has been living in the United States, where he continues to grow  his impressive professional career with concerts around the world.

The piece traces a journey through different genres of the Venezuelan musical tradition, from Eastern rhythms, such as the estribillo, joropo from Sucre, malagueña, jota, merengue and Afro-Venezuelan percussion, among other rhythms woven by the virtuosity of Glem, who confesses his incredible excitement at this artistic challenge.

"For me it is a huge challenge to be able to premiere this concerto that lasts approximately 20 minutes. The composition is beautiful, with a high level of difficulty. I showed Gonzalo, a musician whom I greatly admire and respect, various elements from the traditional musics from the east of the country and from other regions. He was inspired by that and created this wonderful work, which has allowed me to develop some of the techniques that I use as a soloist." 

The Latin Grammy winner and member of the iconic group C4 Trio , who in Venezuela, was always involved and collaborated with The National Orchestra Systems, says: "I had a lot of support from the great maestro, José Antonio Abreu, to whom I am very grateful. I had already played and participated in several tours with the Simón Bolívar Symphony Orchestra conducted by Gustavo Dudamel, including a memorable appearance at the 2011 Latin Grammy ceremony. We always had a great musical connection. We had talked about the possibility of doing a concerto for cuatro and orchestra and now the opportunity is finally here". In addition, Glem says that this composition, which now, joins the repertoire of works for cuatro soloists and orchestra, and which includes pieces such as the one created by Vinicio Ludovic in the mid-90s, premiered by Cheo Hurtado and the Simón Bolívar Symphony, is a special event, which he assumes with great responsibility and which merits not just him as cuatro player, but which is also "a great honor to our venezuelan cuatro and to all of those who have cultivated and continue to spread this rich, four-string tradition within their art".

"I am thrilled because I am going to play Venezuelan music with one of the most important orchestras in the world, directed by the great Gustavo Dudamel, a person I love and admire greatly, and on an iconic stage as is the Hollywood Bowl, where the greatest musicians perform. Performing with the Venezuelan cuatro in hand, in front of 17,500 people is without a doubt something incredible and historic", concludes the Latin Grammy winning Glem.